eM, version 2.0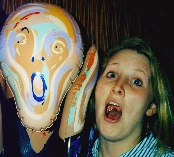 I have spent so much time on my other (ie money making and thus more important) page that I've neglected this personal page, where I first learned all about HTML. What finally made me decide to update it? I got bored one evening, basically...

I am a librarian, I admit it. I mostly work with computers, never shush people, and don't own a brown cardigan. I currently work for Geac, which is a computer company that makes library systems, among other things. It is not nearly as dull as it sounds...

I lived the first 20-something years of my life in the US, but am now happily existing in Canada, trying to learn French and enjoying the general superiority of this northern country. I'm currently living in Toronto, which is a bit like New York without the drivebys and filth.

I have several email addresses, all of which forward mail to the same place. I am most fond of partygirl@chimeron.net. Party Girl is a nickname some of my friends bestowed upon me after proving my ability to look fabulous even with a killer hangover. The fact that it's also the name of a film about a non-stereotypical librarian only makes it more appropriate! I only learned about the U2 song afterwards, I promise :) I try not to accidentally use that email address when writing business correspondence....

As far as net.haunts go, my favourite locale is alt.good.morning. Some people think of it as a support group, some as a place to post odd poems, but I mostly see it as a medium to stay in touch with an interesting international group of people, many of which I've met "in real life." You can often find me at the semi AGM-related "talkers" COLD or Prisoner where I am known as Emma since all variants of Margaret were taken the first time I logged in. The confusion between "Margaret" and "Emma" gave rise to my other nickname, "eM."

Am I online right now? You can page me and if I am, I'll get the message right away. I suppose that email would work just as well, but we all need more gadgets on our computers, eh?
---
Updated June 21, 1999
people have visited this URL